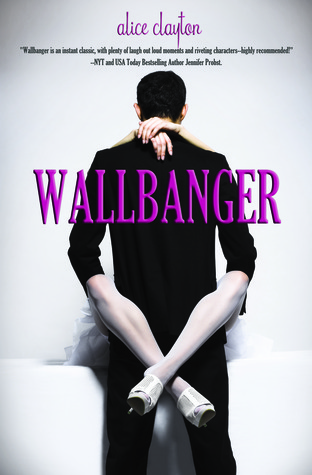 ---
The first night after Caroline moves into her fantastic new San Francisco apartment, she realizes she's gaining an intimate knowledge of her new neighbor's nocturnal adventures. Thanks to paper-thin walls and the guy's athletic prowess, she can hear not just his bed banging against the wall but the ecstatic response of what seems (as loud night after loud night goes by) like an endless parade of women. And since Caroline is currently on a self-imposed dating hiatus, and her neighbor is clearly lethally attractive to women, she finds her fantasies keep her awake even longer than the noise. So when the wallbanging threatens to literally bounce her out of bed, Caroline, clad in sexual frustration and a pink baby-doll nightie, confronts Simon Parker, her heard-but-never-seen neighbor. The tension between them is as thick as the walls are thin, and the results just as mixed. Suddenly, Caroline is finding she may have discovered a whole new definition of neighborly…
---
Well, after reading Nocte and Verum I felt like I needed something lighter, funnier, and less mind boggling. I've had this paper back for a while so I figured oh what the hell! And OMG, LMFAO literally. Seriously, I laughed for hours upon hours and was literally LOLing.
Caroline and Simon have an electrifying chemistry from the get go, even though they first start out "hating" each other after a late night encounter where Caroline "cockblocks" Simon, telling him to lay off of his wallbanging all while she is wear a pink nightie. Their relationship takes a twist as their friends start to hook up with each other and then they realize that them being neighbors they can't exactly avoid each other. Inevitably, they are around each other. So they call a truce and gradually become friends. I loved their friendship! They had so much fun and wit together.
Caroline gets her dream apartment only to come to terms with the fact that her new neighbor is quite loud with his personal life. So loud and physical that his bed (which is actually on the other side of Caroline's wall) bangs on her wall so hard and keeps her up all hours of the night. Apparently he is quite the ladies man also.
"The girl next door was meowing. What in the world was my neighbor packing to make that happen?"
Caroline then figures out that each girl has a different vocalization of just how much they appreciate Simon.
"I fell asleep that night after swearing I would bang back if I heard one more peep. Or groan. Or spank. Welcome to the neighborhood."
After many nights, Caroline does have enough. So she bangs on his door in her pink nightie and interrupts him. And thus begins the hotness and the fun!
"His eyes were piercing blue, and cheekbones just as strong as the jaw. Completing the package? Kiss swollen lips, and what looks like about three days of scruff. Jesus there was scruff. How had I missed that this morning."
Simon, Simon, Simon. I am coming for you! He better watch out because if he was a real person and I was no married I would probably fight Hell and high water to get him. He is just one of those one hundred percent ALL MALE heroes who's quirkiness and wit made me love him more and more every time he opened his mouth. You know what I mean, those kind of "guy-things" that probably over time become more annoying but with the right guy they just never do. Simon. Perfect with all of his imperfections and leaving me totes jelly of Caroline.
What I loved most about the book was that while yes, it was tremendously funny it wasnt JUST that. The characters were likeable (all of them) and they had depth and they were all so well rounded. There was the perfect amount of angst and tension in there. And the romance was intense and hot. This is just another book that I felt was "real". The people and the places seemed so real to me.
All in all this was a very warm, sweet and playful story about a friendship and all sorts of fun! I very much enjoyed it.