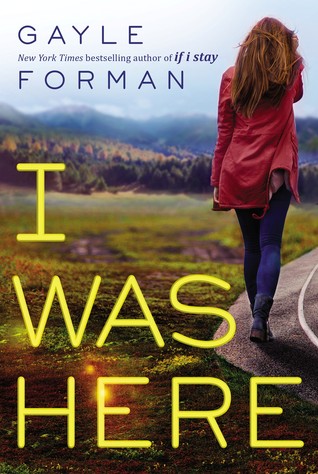 ---
When her best friend Meg drinks a bottle of industrial-strength cleaner alone in a motel room, Cody is understandably shocked and devastated. She and Meg shared everything—so how was there no warning? But when Cody travels to Meg's college town to pack up the belongings left behind, she discovers that there's a lot that Meg never told her. About her old roommates, the sort of people Cody never would have met in her dead-end small town in Washington. About Ben McAllister, the boy with a guitar and a sneer, who broke Meg's heart. And about an encrypted computer file that Cody can't open—until she does, and suddenly everything Cody thought she knew about her best friend's death gets thrown into question.
---
This book had been on my TBR list for a while and while I was cleaning my list out I figured out why it was on that list so long. The E book alone was $10 and I don't like spending over 4.99 (unless it's a Colleen Hoover/Jamie McGuire book) just for the fact that I am afraid I wont enjoy it. I was at Books A Million and I seen they had this hard back on sale for $8. SCORE! Let me tell you, I am SO glad I didn't buy that ebook. The book wasn't terrible, but I don't think I could recommend it either. I feel terrible for even saying this but I was so glad when I was done with this book. SO glad.
Because that GIF up there was practically me. I read this book in one sitting too. I was so over it. The book was well written and the most of the characters were okay but ehh, I was just bored. I wasn't intrigued on the relationship and I was kind of creeped out that a suicide had brought these two people together. Ben didn't appeal to me. Cody didn't appeal to me. I actually think I would have like Meg a whole lot more than over half of the people in this story. I felt no empathy or sympathy for what any of the characters were going through, and I could find no real reasoning for half of the things Cody and Ben did or said. I didn't like her or her mother or their attitudes and well, yeah, you get it by now.
I feel like it is a HUGE PROBLEM if you don't like the narrator. It just makes it more difficult for you to push through a book. And I just didn't have it in me for Cody. I didn't think suicide and stalking and strangers was a good broadcast for a YA fan base. I know that Gayle has a lot of young readers and it's just weird that they will be learning this stuff and the ways to handle the situations the characters are faced with. If you make it through the whole book, congratulations. I felt like my time was thoroughly wasted and I felt as if I learned nothing new and exciting whilst reading this novel.