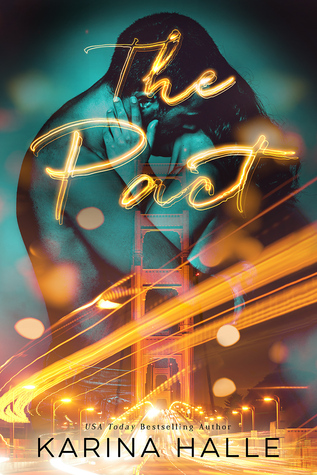 ---
It all started with a pinky swear…
Linden McGregor is tall, rugged, and gunslinger handsome; a helicopter pilot with a Scottish brogue and charm to spare. He's also one of Stephanie Robson's best friends and has fit into that box for as long as she's known him.
But some relationships can't be boxed, can't be classified, can't be tamed.
Back in their mid-twenties and tired of the competitive hit-or-miss dating scene of San Francisco, Steph and Linden made a pact to marry each other if neither one of them are in a serious relationship by the time they hit thirty.
It sounds like fun and games but as the years to thirty tick past and lovers come and go out of their lives, the pact becomes larger than life.
Sex is inevitable. Friendships are tested. Hearts are on the line.
The pact is about to change everything.
---
Round of applause for my first Karina Halle book, guys!
This was a friends to lovers romance with a little twist. I found this book to be light and fun and just steamy enough to keep my interests piqued. The emotional turmoil in this book was just enough to to substitute my love of angst. I really enjoyed this book and the characters were all very likable. Well, besides one specific character who was very whiny and just so terribly annoying. But said person wasn't SO bad that I couldn't finish the book. 
Linden and Stephanie are best friends and in their mid-twenties. However, neither one is having much luck in the love game, so Linden suggest a pact. If they aren't seriously involved with any one by the time they are thirty, they marry each other. Okaaaay… okay!! I can handle this, I like this kind of idea.
I need to say this: I was pulling for Linden from the first chapter. He was a bit cocky with a dirty mouth and a sweet side, while Stephanie was confident and spunky. I felt like they complimented each other so well. I liked that. BUT, I don't even want to talk about 81% of the way through right now. Just so damn annoying and frustrating. And depressing. Still!! I am still a wreck because of that part.
The story is told in dual POV and you guys should know that I'm a huge fan of that by now. I love getting the guys perspective. And I loved getting Linden's.
So here's to baby blues and Cowboys. And many more Karina Halle books for me!