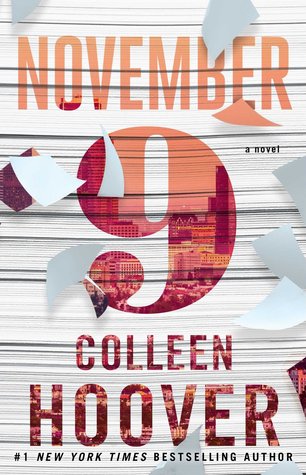 Fallon meets Ben, an aspiring novelist, the day of her scheduled cross-country move. Their untimely attraction leads them to spend Fallon's last day in L.A. together, and her eventful life becomes the creative inspiration Ben has always sought for his novel. Over time and amidst the various relationships and tribulations of their own separate lives, they continue to meet on the same date every year. Until one day Fallon becomes unsure if Ben has been telling her the truth or fabricating a perfect reality for the sake of the ultimate plot twist.
---
If you guys are anything like me, Colleen Hoover is an automatic buy. I buy all of her ebooks and I buy all of her paperbacks. I have very few authors that I enjoy supporting like that. I know that hype can kill a book and we all know that hype surrounding CoHo's books are out of this world. We see her books being raved about for MONTHS before they even release. Most of the time with hype like that, the book could either not meet those readers expectations or they could blow all of that hype out of the water and be so much more than the words and teasers that were made for it.
I read this book in one sitting. Granted, all of CoHo's books have been read in one sitting by me. I wasn't about to sleep until I was able to learn Ben and Fallon's fate. Fallon was a character that irrevocably drowned me with compassion and sympathy.It takes some killer writing or a very talented author to sell me on that. Ben was a breath of fresh air and incredibly smart. Something that most books these days lack in male leads.
November 9 had me hooked from beginning to end. I completed the title in one seating, desperate to learn the fates of Fallon and Ben. Readers who have loved Colleen Hoovers titles in the past will enjoy the unique duo in November 9. I can say that honestly, this book put me through the ringer. Ben and Fallon's story is irresistible. I couldn't help but fall in love with them from the very beginning. Their chemistry leaps of the page with humor, passion and an endearing realness.
"NOVEMBER 9TH OR NOTHING"