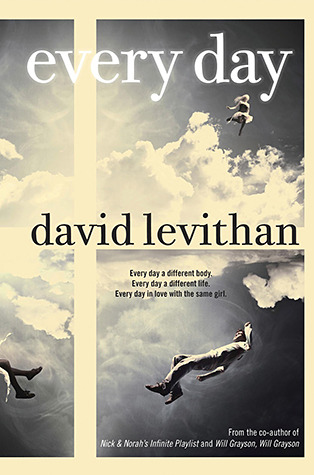 Every day a different body. Every day a different life. Every day in love with the same girl.
There's never any warning about where it will be or who it will be. A has made peace with that, even established guidelines by which to live: Never get too attached. Avoid being noticed. Do not interfere.
It's all fine until the morning that A wakes up in the body of Justin and meets Justin's girlfriend, Rhiannon. From that moment, the rules by which A has been living no longer apply. Because finally A has found someone he wants to be with—day in, day out, day after day.
---
I had a very complicated relationship with this book. I was really hoping that the premise of this book would make is so great. I don't branch out to YA a lot so I wanted to go in with an open mind with this one. In this story, A (yes, that is his/her name) body swaps with a new person his/her age everyday. New person, new body, new gender, every day. I loved the idea of this book.
"I am not kissing her because I want to, and I am not kissing her because I need to – I am kissing her for a reason that transcends want and need, that feels elemental to our existence, a molecular component on which our universe will be built."
I mean, I guess I liked the book well enough. Probably a strong 3.5 stars. The writing was great and smooth. I wanted some back story so bad but I guess things have always been this way for A so he/she has just come to terms with everything. Therefore making it not very important for the reader to understand what is happening. The story and his/her's days are all the same until he/she ends up in a body of a boy named Justin and he falls in love with Rhiannon. Suddenly, A's many lives he encounters every day revolves around locating Rhiannon and spending time with her. Hoping they can be together but knowing that they can't and trying his/her best to explain all of what happens in his/her life.
Beyond this t was a disappointment. Had this story been written by any other author it would be called out for its "instalove" but my guess is since the author writes it so "poetically" and "romantic" A's relationship with Rhiannon seems deeper than what it truly is. Secondly, there is no explanation at all for the paranormal aspect. No attempt to address it, no consideration given to why A always wakes up in a body 4 hours or less away from Rhiannon and is always the same age.
The strongest part of this book, for me was the many small stories scattered throughout about the different lives A enters. They are fleeting but very interesting and touching. I felt like the story was never ending and unfinished. Some people look at Every Day and see a very different and beautiful book. That's okay, I am glad. I look at it and see another YA romance, wrote in such a different way but never really breaks outrageous grounds.