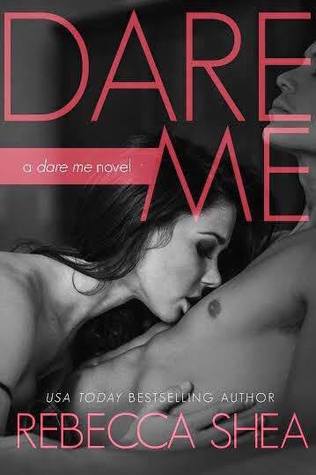 Five coworkers.
Four drinks.
Three glances.
Two fleeting smiles.
One dare.
A dare that will change my life.
That's all it takes to send me plummeting into the arms of the mysterious Holt Hamilton. Behind his crystal blue eyes is a secret, one that screams danger but calls to me anyway.
My name is Saige Phillips.
I never walk away from a dare.
---
Every once in a while I like to indulge myself in some good ole fashioned romance novels. Okay, so I do that all of the time BUT the problem with that is, most of the stories and the story lines are the same. They run together. Most of the characters are the same. And you ALWAYS know what is going to happen one way or another. Well, with Dare Me, you don't have any of those problems.
Oh Holt. Holt, Holt, Holt. Thank you for not being the typical, cliché, hero that most books contain. I mean, this guy actually had a sense of humor. He is still brooding and temperamental, don't get me wrong but his character was also a very dynamic character. I was also very pleased with Saige. Given her circumstances, she didn't let them defy her like most heroines in books do. She wasn't what most would consider a "weak heroine". She was quirky and fun and I enjoyed her all around throughout the whole book.
Secondary characters. Remember: secondary characters are so huge to me! Huge. So with that being said, I think Rebecca did a fantastic job at creating secondary characters that are so diverse from the main characters themselves. And some of them are also very surprising. They brought so much to the book and to the hero/heroine.
In conclusion, this story definitely differed from most of the romances that are out now. I'm not saying there aren't some hot sex scenes in here (duh, there are some smoking hot sex scenes in here) but that is not what it is all about. And it's just enough sexiness that you actually look forward to it. There's still a plot. There's still lessons that are learned and secrets and closure and growth in characters which to me, is a huge accomplishment.
Dare Me releases in a couple of weeks so I hope you are ready to meet Holt 😉