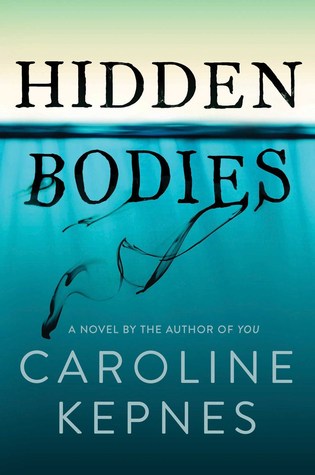 In the compulsively readable follow-up to her widely acclaimed debut novel, You, Caroline Kepnes weaves a tale that Booklist calls "the love child of Holden Caulfield and Patrick Bateman."
Hidden Bodies marks the return of a voice that Stephen King described as original and hypnotic, and through the divisive and charmingly sociopathic character of Joe Goldberg, Kepnes satirizes and dissects our culture, blending suspense with scathing wit.
Joe Goldberg is no stranger to hiding bodies. In the past ten years, this thirty-something has buried four of them, collateral damage in his quest for love. Now he's heading west to Los Angeles, the city of second chances, determined to put his past behind him.
In Hollywood, Joe blends in effortlessly with the other young upstarts. He eats guac, works in a bookstore, and flirts with a journalist neighbor. But while others seem fixated on their own reflections, Joe can't stop looking over his shoulder. The problem with hidden bodies is that they don't always stay that way. They re-emerge, like dark thoughts, multiplying and threatening to destroy what Joe wants most: truelove. And when he finds it in a darkened room in Soho House, he's more desperate than ever to keep his secrets buried. He doesn't want to hurt his new girlfriend—he wants to be with her forever. But if she ever finds out what he's done, he may not have a choice…
---

Caroline's writing always enthralls me. I'm captivated by her sense of creativity and pictures she creates with her writing. HB ranked higher for me that what YOU did and I'm not afraid to say it. Being in Joe's head and being with Joe isn't just creepy, twisted, and beautiful. It's exciting and thrilling. Bravo, Kepnes. Joe takes the cake in Hidden Bodies.
Honestly, a year ago when everyone was hyping YOU I was in the minority which means I was not enjoying it or the hype. So when I hopped on NetGalley for the ARC of Hidden Bodies I didn't expect much. But I was in total shock by the time I finished the first go around. I just finished a re-read so I could blog it and I was even more in love.
In Hidden Bodies we get Joe back. THE Joe. The one thing I have noticed about Caroline is that she evokes every single emotion into Joe. He's intellectual, he is emotional, he's sexual, he's human, like all of us. He's a killer, but he is so easy for us to latch onto and soak ourselves into him. Or maybe it was just me…am I crazy too?
Also, can I just add that Joe's inner dialogue is fantastic? It's witty and charming and I couldn't get enough of it. I didn't want it to stop.
I really enjoyed Hidden Bodies much more than I did YOU. Reasons being: The characters. The multitude of characters we encounter and that Joe meets makes for a much more interesting story. Also, Joe was in a much more different environment than he was in YOU so it was fascinating to see him adjust to his surroundings and adapt to all of the changes.
"Fucking and killing are the same damn thing."
We aren't just in the mind of a killer in Hidden Bodies. We are embracing Joe for what he is and what he does to us as readers. We are letting Caroline entrap us in the mind of a place none of us have ever thought we would be in. Although this isn't a realistic book (I hope anyways) it was completely entertaining and much more enjoyable than YOU was.
The main thing I would like to do is thank Caroline for being able to snatch up the mind of her readers and not let go until the last page has been read.