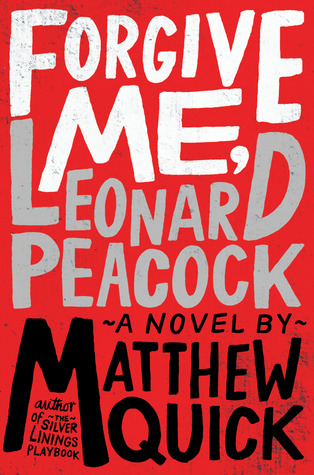 Today is Leonard Peacock's birthday. It is also the day he hides a gun in his backpack. Because today is the day he will kill his former best friend, and then himself, with his grandfather's P-38 pistol.
But first he must say good-bye to the four people who matter most to him: his Humphrey Bogart-obsessed next-door neighbor, Walt; his classmate, Baback, a violin virtuoso; Lauren, the Christian homeschooler he has a crush on; and Herr Silverman, who teaches the high school's class on the Holocaust. Speaking to each in turn, Leonard slowly reveals his secrets as the hours tick by and the moment of truth approaches.
In this riveting look at a day in the life of a disturbed teenage boy, acclaimed author Matthew Quick unflinchingly examines the impossible choices that must be made—and the light in us all that never goes out.
---
It's going to be weird for me to say this but I appreciated this book because I was able to relate to it and it's going to sound even weirder to admit that out loud. But before anyone makes any crazy assumptions I want to explain why I could relate to Leonard Peacock.
First we will talk about me and then I will talk about the book. I related to Leonard. I did. I have felt so off-kiltered and "different" and just so alone. So to read a book from his perspective, it really hit me in the chest and it felt really heavy. I still have not decided how that weight made me feel.
"I feel like I'm broken–like I don't fit together anymore. like there's no more room for me in the world or something. Like I've over-stayed my welcome here on Earth, and everyone's trying to give me hints about that constantly. Like I should just check out."
I don't curse in my reviews but you know what? I fucking get that. I feel that like it punched me straight in my gut. Sucker punched. Like it wanted to hit me so hard.
I loved Leonard. From the second I started reading I welcomed him with open arms and I GOT him. And you know what? I got weapy for him. My eyes blurred. Because do you know how many kids in this world feel the way he does? Too many. And how incredible of this author to write such a book that teens can read, they can relate and see just how to cope, even when they don't feel like talking about it and I hope that by the end, they get the help that they deserve.
I read Silver Linings Playbook a while back and I really loved Matthew Quick's story-telling and his writing and Forgive Me, Leonard Peacock was nothing short of that. The pace in the story is ideal for readers. Hook. Line. And Sinker. No lulls. Just all around GREAT story telling.
"we can simultaneously be human and monster—that both of those possibilities are in all of us."
There is one thing I didn't like. And I won't spoil it But it was very hypocritical of Leonard but he was mature enough to admit that so I felt some huge redemption with him. Other than that…I was obsessed.
OMG I JUST READ A YA NOVEL THAT I LOVED. Someone pinch me! This book took me by complete surprise and I love it when that happens. That's about all that I can say. The topic of very important social issues was so compelling I was completely mesmerized.