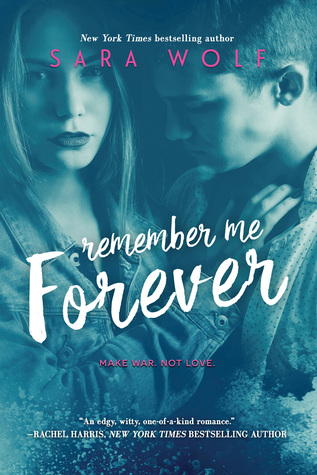 Isis Blake hasn't fallen in love in three years, forty-three weeks, and two days. Or so she thinks.
The boy she maybe-sort-of-definitely loved and sort-of-maybe-definitely hated has dropped off the face of the planet in the face of tragedy, leaving a Jack Hunter–shaped hole. Determined to be happy, Isis fills it in with lies and puts on a brave smile for her new life at Ohio State University.
But the smile lasts only until he shows up. The menace from her past—her darkest secret, Nameless—is attending OSU right alongside her. And he's whispering that he has something Isis wants—something she needs to see to move forward. To move on.
Isis has always been able to pretend everything is okay. But not anymore.
Isis Blake might be good at putting herself back together.
But Jack Hunter is better.
---
I have successfully finished this series! But something about this book didn't sit right with me. I didn't like the finality of it all and the fact that I had about three very important unanswered questions that are driving me absolutely BUGGY. Not to mention the ending to the book (last chapter) was completely sloppy and rushed. I was so upset about that especially since I finally got what I wanted with Isis and Jack.
"Sometimes looking at Jack feels like reaching out to the horizon—I'll never touch it, never hold it, but it's the prettiest thing I've ever seen."
I still loved Isis. At this point, I think it's a safe bet to say she was my most favorite thing about the entire series. To see her actually let go and FEEL this go around, was very cathartic to me. I needed to see that from here and Sara Wolf showed that to us very well.
"A lot of people in your life are going to tell you how they think you should live. Some might not say it outright at all. Some of them might just convince you without saying anything that you need to live a certain way." She looks out the dark window dotted with stars. Don't live any other way than the way that makes you happy. If you aren't happy, leave your lover. If you aren't happy, quit the job. If you aren't happy, do more to make yourself happy. Because you are the only one who can make yourself truly happy in this life."
Thus concluding, I really loved this series. Tremendously. And that is saying something for me because I don't typically follow through with series. I just really wanted a couple of questions answered that I had wondered all throughout three books and I never got that.